Christmas cacti are relatively simple to take cuttings from. Simply twist off or cut 2/3 segment pieces of a healthy plant. Pot the cuttings around the edge of a large pot filled with potting compost and sharp sand or vermiculite. 3/4 of the bottom segment should be buried below the compost.
If possible try to take your cutting 1 segment below a V or split. This will mean your new plant already has two stems from which to sprout new growth which should help speed up the plants initial growth.
As will all cuttings it's best not to water them but instead to mist the foliage regularly in order to stop them from drying out. After a few weeks you should notice some new segments forming.
Your cuttings will almost certainly wilt and flop over after a few days. Stick with it and keep misting and keep them in plenty of light. Hopefully after a few days the shock will pass and they'll get down t sprouting roots.
Some people dip the segments in rooting powder or gel prior to planting however I don't bother. Other people recommend leaving the cuttings in the open air prior to cutting in order for them to heal over, again I have never felt the need to do this.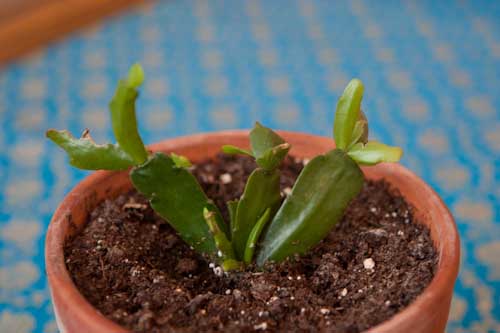 Above is a cactus that came from a cutting back in September. It's growth has been pretty slow, mainly due to me taking the cuttings at the end of the summer. Despite this you can see there are plenty of new shoots forming and hopefully i'll have a nice healthy cactus by the time Christmas comes round.