One of the most common reasons for a Aqualisa Quartz shower unit to suddenly stop working is an air lock in the system. If you've experienced a power cut or have had to drain your hot/cold water tanks recently then an air lock is likely to be the cause.
The main symptom of an air lock is that when you turn the shower on no water comes out of the shower head. After trying a few times (turning the shower on and off )you may find that all of a sudden no lights appear on the control dial altogether.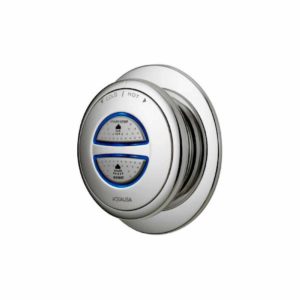 How to Fix An Air Lock In Your Electric Shower System
The good news is an air lock is relatively straightforward to fix. It should only take you a few minutes and won't need any tools or plumbing skills.
The control unit may have to be reset if none of the lights are on and no water is coming from the shower head.  This is simply a case of locating the control unit (usually in the loft or the airing cupboard) and switching the power off for 30 seconds, then back on again.
Here's a picture of the pump/control unit which in our case is located in the airing cupboard near the bathroom.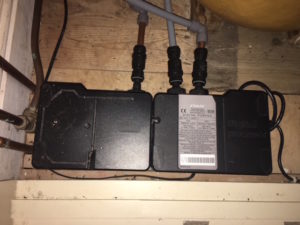 Before turning the shower unit back on remove the shower head from the hose and let the hose dangle to the floor. This will reduce the pressure required to get water back through the system to the absolute minimum.
Next simply turn the dial to the coldest setting then turn the shower on. Let it run for a few seconds and hopefully you'll get some spluttering of water out of the hose. If not, turn the shower off, wait a few seconds and try again.
When you turn the shower on and assuming some water is coming out, try leaving it on for a few seconds longer each time before switching it off. You should notice the spluttering decrease and more water come out of the hose each time.
Once water is running constantly from the hose slowly turn the temperature up a little at a time. Hopefully now there will be enough pressure in the pipes to 'pull' the hot water through the system.
If the above doesn't work simply try turning the dial to the hottest setting instead and work backwards to the cooler temperatures.