A few years ago i went through the laborious process of  converting my extensive CD collection to mp3.
Now that hard drive storage is so much cheaper I thought it was about time I converted my existing DVD collection to digital format. As well as allowing me to save space the aim was to make my media collection much more accessible.
I have toyed with the idea of building a media center using a mac mini however instead I have decided to purchase a new samsung LCD TV which allows you to play sound and video media directly from an external hard drive via a usb connection. If I could convert all of my DVDs to avi files and put them onto an external hard drive with my mp3's i'd be able to access all of my media directly from my television.
bitripper DVD to AVI software
After a bit of googling i stumbled across bitripper. This is one of those great (simple to use and effective) pieces of software. Once installed you simply put a dvd in your drive and open bit ripper.The software will automatically find the dvd and display the following minimal screen.
All you need to to is to select the correct track to burn and hit go. DVD's are made up of many tracks (the adverts, menus, extras etc). To just rip the main film on the DVD I simply select the track with the longest time from the dropdown. If required you can also change the output location and file name. Once you are done simply hit "Start Ripping" and bitripper will take care of everything else.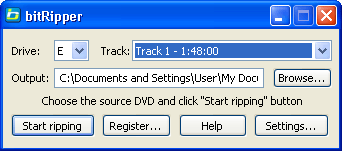 One of the great features of bitripper is that it does everything you need it to do straight out of the box. Other solutions i looked at meant you had to first burn an image or ISO of the DVD and then convert that to an avi. Bit ripper does everything on the fly and requires no further software.
Of course you can adjust the settings manually to use different codecs, bit rates etc however I have found no need. An average DVD gets output to about a 650mb avi file and is great quality when played back on my 40″ Samsung LED TV.