When going on a sunny beach holiday I find I need to take very little luggage. Over the years I've refined my packing list and now only take a modestly sized piece of hand luggage which weighs roughly 5-6 kg.
Packing so light makes travelling much easier and quicker. It keeps me more mobile, allows me to spend more time enjoying myself and less time constantly packing and repacking.
Most days i'll be wearing nothing more than a pair of swimming shorts with a t-shirt/polo/shirt and flip flops. In the evenings I may smarten up and wear a shirt or even chinos but mostly i'll be going to laid back places where there is no need to dress up.
The Bag
If you're looking to be a minimalist packer then choosing the right bag is essential. I use an old Timbuk2 Messenger bag in Large size. I've also got a Medium that I use daily for cycle commuting/going to the gym/photography etc.
These bags are bullet proof. Discrete, light, comfortable to wear and water proof. I've misused and abused both of mine for over 10 years and they both still look brand new.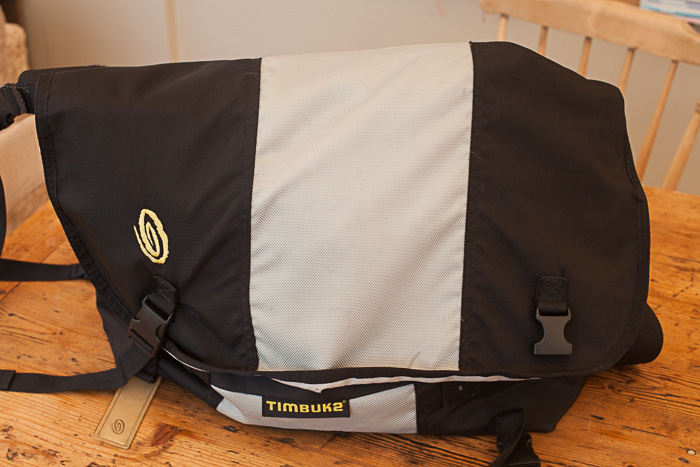 These bags seem to have a capacity to swallow huge amounts of stuff. While that is great I try to not over fill them for the sake of it and just take the essentials. I could fit all of this stuff in the medium but i prefer to use the large and not overfill it.
Inside the main bag i use two smaller bags. Firstly a mesh packing cube into which I put all my clothes. Secondly I keep all my chargers/adapters/leads etc in a 2 litre dry-sack to stop them getting lost. This dry bag is also perfect for keeping valuables dry and sand free on day trips to the beach or by the pool.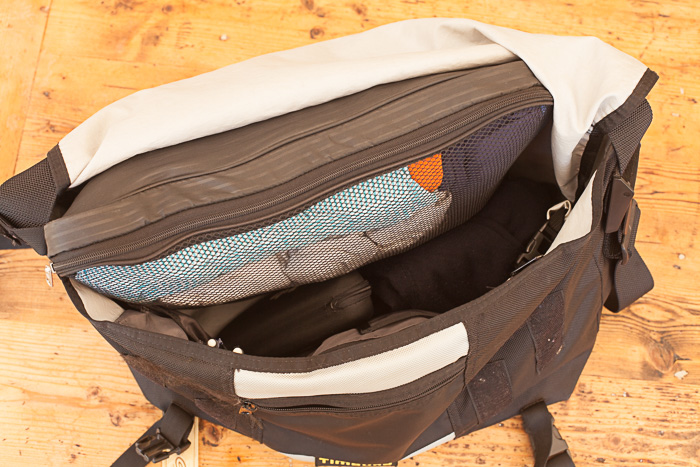 Toiletries
I use a simple ziploock bag as a wash bag for toiletries. I can take this straight out of my main bag at airport security as it contains all of the few small liquid items that i travel with. The contents are:
Contact lenses
Toothpaste
Shower gel
Paracetemol
Ibuprofen
Antihistamines
Epipen (wasp allergy)
I tend to buy sun cream and/or disposable razors (if required) when I reach my destination.
Clothes
Thin layers, things can can re-used in different circumsances and idealy will dry quickly if a wash is needed are the order of the day.
Up top a couple of thin t-shirts, a polo shirt and a regular collared shirt sees me right for most occasions whether it is a night out clubbing, a romantic meal or a days hiking.
Below the belt I take a pair of chinos, a pair of light hiking style shorts and a pair of swimming shorts that also double as casual shorts. Footwear is a pair of trainers and a pair of cheap flip fops.
In addition I also pack a beach towel as often hotels/apartments won't supply these.
Naturally it makes sense to try and wear your bulky items for the journey. For me this means the trainers and chinos. This helps make the bag as light as possible while travelling. If required when arriving at my hopefully sunny destination I'll change to shorts in the airport.
A thin Merino wool jumper is a great addition to your packing list. While being light and not very bulky it will provide welcome warmth on a cool chilly early morning walk or an air conditioned airport. I find these Uniqlo Merino jumpers are the perfect mix of cheap and good quality. They keep you warm when needed, dry quickly if wet and don't have the weight or bulk of many alternatives. Whats more they look reasonably smart which can be useful in some circumstances.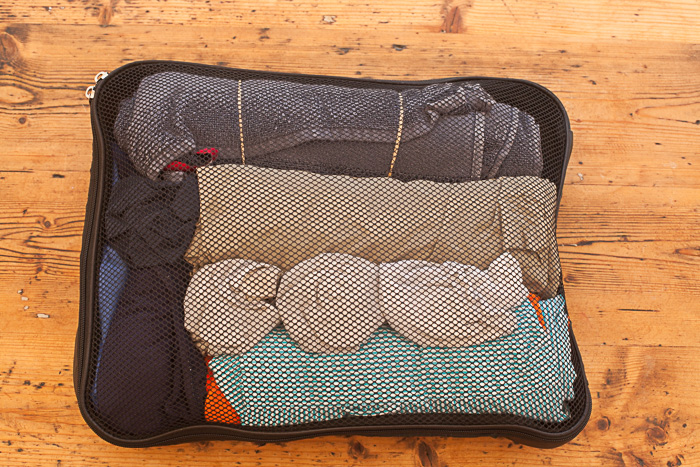 Here's my full list of clothes I pack for a week away:
Beach towel
Hiking Shorts
3 x thin t-shirts
1 x Merino jumper
1 x pair of chinos
1 x polo shirt
1 x collared shirt
5 x boxers
4 x socks
Rolling the larger items before putting them in the mesh packing cube helps keep things organised and crease free.
Accessories / Entertainment
I like to keep things simple in this department. These days a smartphone can be most things while traveling:
Document storage (ie boarding passes, hotel confirmations etc)
Music player
Camera
Games Console
Movie player
Book
So thanks to my smartphone I keep keep accessories down to a minimum. Here's the full list:
iPhone
Charger
Travel plug adaptor
Lipstick sized USB power bank
Notebook
Pencil & Pen
Bottle opener
Front door key for home
Passport
Headphones
Money clip
Money & Foreign Currency
While we're on the subject of money….my number one tip is to use a forex app like Revolut.
If you want to avoid all the usual concerns about buying you Euros before leaving and not getting ripped off via poor exchange rates or hidden bank fees when withdrawing cash or using your card abroad maybe take a look at Revolut.
Essentially it's a prepay MasterCard debit card that lets you exchange your money to one of about 90 currencies fee free at interbank rates via their slick phone app. No fees and no more dodgy exchange rates.
I've checked the rates against a Bloomberg terminal at work and they are bang on. As far as I can see the only potential downside is cash machine withdrawals >£500 per month incur a 2% fee so watch out if you're a big spender or travel a lot for lengthy periods.
The beauty of Revolut is that as long as you're near a cash machine you don't need to worry about withdrawing and carrying around large quantities of cash. You can also use your card fee free anywhere that takes mastercard. Whats more if you do lose the card you can cancel it directly from the app on your phone.
Conclusion
Packing light makes it so much easier to stay mobile and active when you're travelling. By cutting out the unnecessary luggage from you're trip you'll have less to worry about and more time to enjoy the experiences you find along the way.