I'm a big fan of perennial flowers in the garden as I like to divert most of my limited time to growing vegetables. Nothing says 'English summer' quite like a sweet pea in full bloom. Until a couple of years ago sweet peas were one of the few annual flowers I used to grow from seed each year. That all changed when I discovered this perennial variety.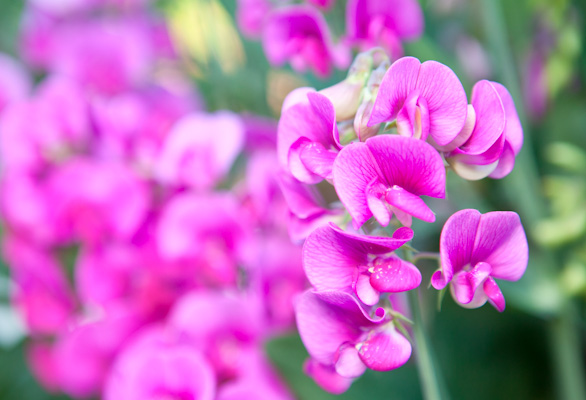 These plants came form seeds that my father saved and gave to me. He in turn was given some seed form one of his best friends (acquiring successful plants in this way is so much more satisfying than going out and buying ready grown, established plants form the garden center).
I'm not 100% sure of the variety but I suspect it is Lathyrus latifolius.
Maintenance is very easy. As they grow in Spring and early Summer I simply tie them up against the pillars which they're planted near. They grow vigorously and are fairly sturdy so it's not a fiddly job.
As with most flowers once they start to flower, dead heading will help to encourage more blooms. They provide a constant stream of deep pink flowers right into autumn.
At the end of the summer the plants will dry out and die back. Before cutting them back I take the opportunity to save some seeds and pass on to friends and family.
The only downside to these perennial sweet peas is that they do not have much scent compared to some of the annual varieties I've previously grown. Apart from that these should be a must in any English garden.